The Green Shovels Collaborative is seeking to support groups or organizations implementing Phragmites control activities in Ontario by providing grants of up to $10,000 within the fund's total of $40,000. 
The Invasive Phragmites Control Fund program will: 
Amplify and expand Phragmites control implementation in Ontario, and/or
Address the leading edge and rapid spread of Phragmites, and/or
Increase collaboration and coordination, volunteer and landowner participation & capacity.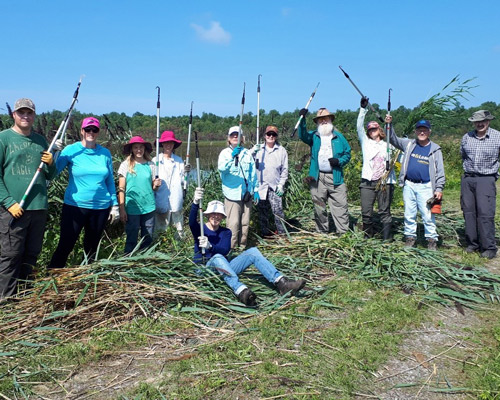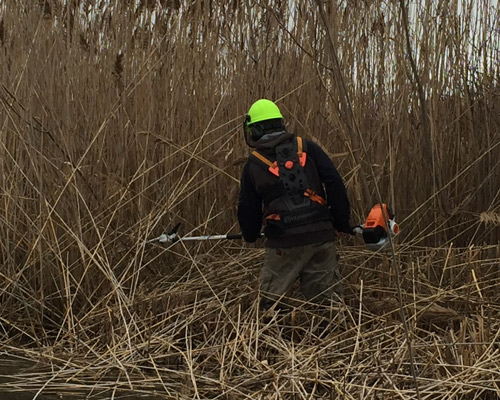 Interested applicants should review the program guide and complete an application by Friday, August 5, 2022, at 12:00 p.m. (noon).
The application is online, accessible here.
Please note, the application form cannot be saved and returned to; applicants are encouraged to reference the Application Guide for an outline of the application so answers can be prepared ahead of time.
The Green Shovels Collaborative thanks all applicants for their interest in the Invasive Phragmites Control Fund. Successful applicants will be notified by email in mid-August.
Previously Funded Projects:
Lambton Shores Phragmites Community Group 
Herbicide application from a Jon boat targeting Phragmites growing on the banks of Mud Creek. 
Centre Ipperwash Community Association  
Fall 2021-Licensed contractors apply herbicide using a Fat Truck, Kubota, and Backpack spayers. Winter 2022, cutting and removal of biomass.  
Friends of Second Marsh 
Management of Invasive Phragmites in McLaughlin Bay Wildlife Reserve (Zone 1). 
Toronto and Region Conservation Authority  
Tommy Thompson Park Terrestrial Phragmites Management project will chemically treat 0.4 ha of Phragmites in the Toplands habitats.  
Township of King 
Phragmites control in 4 target areas of the Dufferin Marsh. King will work closely with the Dufferin Marsh Nature Connection to prevent Phragmites from spreading.  
Marl-Tiny-Matchdash Conservation Association  
Multi-resource plan to combat the spread of Phragmites at Tiny marsh. 
Winter Spider Eco-Consulting  
The Manitoulin Phragmites Project Achieves Way More with a Boat 
Municipality of Whitestone 
Community tool kit for residents to borrow that will remove financial barriers and encourage them to tackle invasive species on their property.  
Nipissing First Nation 
Mapping phragmites, prioritizing stands, and performing eradication in vulnerable areas. The project hopes to complete total eradication on the Northshore of Lake Nipissing.  
Georgian Bay Forever 
Georgian Bay Forever has partnered with many communities to eradicate Phragmites, including Beausoleil First Nation, and have recognized the need to not only cut Phragmites but invest in more robust mapping techniques to fully understand the true scope of the issue. 
Near North Enviro Education Centre 
The project will bring together communities in Almaguin to remove Phragmites from Almaguin lakes and watershed.  
Interested applicants should review the program guide and complete an application by September 14, 2021 at 11:59 p.m.