Please read the Guidelines carefully and then complete the Participant Form to sign up for the program.  
Native Phragmites is an important component of a healthy wetland ecosystem.  It grows amongst other macrophytes in marshes and unlike the invasive Phragmites, does not typically develop into dense monocultures or degrade habitat quality.  
Across the Great Lakes region, native Phragmites has disappeared from wetlands because of the more competitive invasive Phragmites and there is a concern that the native population is being removed from wetlands due to well-meaning control measures targeting invasive plants.  
Fortunately, variation does exist between the native and invasive Phragmites, but even the available diagnostic keys are not leading to clear determinations of native or invasive Phragmites. When confusion remains, a DNA analysis is needed (Slide Deck, J.M. Gilbert, 2022).  
In Ontario, an increasing number of land managers are admitting confusion when attempting to identify native or invasive Phragmites in the field. To protect native Phragmites and ensure efficient use of resources to control invasive Phragmites, the Green Shovels Collaborative is offering free access to a DNA Screening Service for the 2022-23 fiscal year.  
The DNA Screening method being used for the program is from D. Wendell et al. (2021).  This simple screen test can differentiate between native Phragmites and invasive Phragmites. The test will also detect hybridization.  
 

Sites are in Ontario

 

Management of the site and/or area in question is either underway or scheduled to begin in 2022 or 2023. 

 

Phragmites

is atypical despite attempts to use the available resources for field identification. 

 

Phragmites

is considered atypical when the outward appearance of the plant does not clearly indicate native

Phragmites

or invasive

Phragmites

, or it is growing in a habitat type that increases confusion. Please see these resources to determine if your

Phragmites

is native, invasive, or atypical:

 
The service program provides instructions and supplies for collecting and shipping one DNA sample (two leaves/sample).  All other costs are to be covered by the participant.   

 

Samples that do not arrive at the Lab by the June 30, 2022 will not be processed. 

 

Initial requests will be capped at 4 kits/organization. Registered participants will be later notified of surplus supply. Exceptions will be made on a case-by-case basis, please contact

info@greenshovels.ca

. 

 

The success and accuracy of the DNA Screening test depends on the quality of the samples. Sample quality is based on three components:

  

 
A) Fresh growth plant tissue 
The DNA Screening kit will include instructions for how to sample fresh plant tissue from Phragmites in the field. Each kit will require two leaf samples each taken from different stems in the stand.  
B) Rapid delivery and silica bead care 
Each kit will include an envelope, silica beads (to absorb moisture), and pre-paid postage to ensure your samples can be enroute to the lab within 12 hours of collecting the plant tissues.  
C) Representation 
You must do your best to collect a representative sample. This requires you to sample the variation you are observing. To do this, you may require more than one kit (or 2 leaf samples).  
Phragmites stands can appear as either uniform or as more than one combination of characteristics across a small or large stand.   
Uniform Phragmites stands have no range of characteristics, it all looks the same but is not clearly native or invasive. This requires one DNA Screening Kit to provide the lab with a representative sample of the stand.  
Some stands present with combinations, or variations, of atypical characteristics in one stand of Phragmites.  This means it doesn't look the same across the entire stand.  This stand requires multiple kits; one DNA Screening Kit for each area of the stand that looks different.   
Here is an example from Oliphant, Ontario (below). The shiny red stalks in the middle of the photo appear quite different than the Phragmites around it.  This stand will require 2 DNA Screening Kits.  One kit to sample two leaves from the red stems, and one kit to sample two leaves from the greener stems.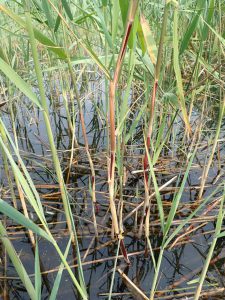 *If you think you may require more than 4 kits to collect a representative sample, please contact the Green Shovels Collaborative at info@greenshovels.ca.
Once you have read the above information, please complete the form below to sign up to the DNA Screening Program.  
For Recipients: Next Steps
The Invasive Species Centre will receive your sign-up form and mail you a DNA Screening Kit.  
IMPORTANT INFORMATION 
Do NOT open the zip-lock bag until you are in the field collecting your samples.  The kits include silica beads that absorb moisture.  Once the beads are exposed to air, they will begin to absorb moisture.  You want to preserve them until you ship your samples. Place the kit in a dry location until you are ready to use it.

DO NOT REFRIDGERATE

.

DO NOT OPEN THE BAG. 

 
Be sure to RECORD YOUR BARCODE.  This is your unique identifier.  The lab will communicate results using barcodes. 

 

A Full Program Guide and Instructions will be sent to the email account you provided in the Participant Sign-Up Form. 

 

The DNA Screening Kits will arrive by Canada Post. 

 

Plan to sample Phragmites when you can collect fresh growth tissue and put the samples in the mail that day. Canada Post shipping times may vary. Be sure to give yourself enough time to mail the samples to the Lab by June 30.  

 

The Lab will process all the samples in a batch and will aim to have all samples processed by mid-to-end of August. 

 
Results will be posted online at

www.greenshovels.ca

.  All participants will be notified by email once the results are available. 

 
DISCLAIMER 
Participating in this program does not guarantee you will receive DNA Screening Test results.