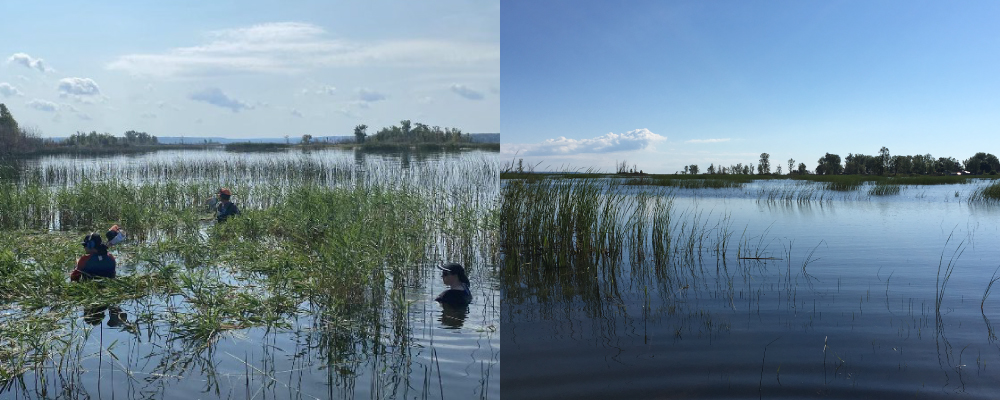 Phragmites australis ssp. australis is a non-native plant that grows densely and has been spreading rapidly across Ontario since the 1990s. Phragmites, which is often found in wetland areas and along roads and other corridors, has a wide range of negative impacts to environmental, cultural, and economic values.  
Phragmites is an aggressively spreading grass that can reach heights of more than 5m and densities of over 200 stems/m2. In 2005, it was recognized as Canada's worst invasive plant by scientists at Agriculture and Agri-food Canada… and become one of the most significant threats to Great Lakes coastal habitats, where it has drastically reduced plant and wildlife diversity, as well as threatened a high number of species at risk. It is also a common sight along Ontario's major highways and secondary roads… as well as rail and hydro corridors…which act as vectors to spread the species."  
– Nichols, 2020. 
Phragmites also impacts human access to water bodies for recreation, impairs road sightlines, blocks water courses, lowers property values, and can increase the fire hazard around infrastructure. 
In November 2020, the Ontario Ministry of Northern Development, Mines, Natural Resources and Forestry (NDMNRF) expressed interest in a suite of Green Shovels projects, including a strategic framework that would enhance coordination and collaboration of Phragmites management using a regional implementation model. Green Shovels delivered on this interest in three ways thanks to support and generous funding from the NDMNRF. 
Click on the buttons below to learn more about a specific project, or keep scrolling to read more about all of the projects.
Green Shovels Collaborative – Phragmites Project Update August 2021
Invasive Phragmites – A Strategic Framework for Coordinated Management in Ontario  
Phragmites management in Ontario today consists of a wide range of delivery styles from volunteer-driven, community-based grass roots projects to large government-led landscape scale programs. This variability is driven by many factors including capacity to deliver and funding, and often results in uncoordinated control efforts across the province. While these efforts are helping, they have wide-ranging results that are not achieving the efficiency and collaboration potential that exists.  
Specific management challenges identified in the strategy are: 
Coordination and funding

 

Public and Sector Awareness

 

Rate of Expansion

 

Land Ownership

 

Permits and Authorizations

 

Lack of Registered Aquatic Herbicide

 

Leveraging Regional Success

 
Collaboratively, this team's efforts resulted in the goals, objectives, and important actions within that address the management challenges identified above and provide strategic guidance towards a coordinated response to Phragmites management for the province. This work supports a shared vision of Ontario where vibrant, diverse ecosystems support wildlife, healthy people and communities that are no longer impacted by invasive Phragmites. 
Project Team 
The Nature Conservancy of Canada led the Framework with contributions from the Invasive Species Centre, Ontario Federation of Anglers and Hunters, Ducks Unlimited Canada, and the Federation of Ontario Cottagers' Associations. Technical expertise and assistance in approaching Phragmites management practitioners across Ontario was provided by the Invasive Phragmites Control Centre, the Ontario Invasive Plant Council, and the Ontario Phragmites Working Group. Additional support and expert guidance were generously provided by many other community partners. 
Cost-Benefit Analysis for Treatment and Control of Phragmites in Ontario 
As the Strategic Framework indicated, to slow the spread and effectively manage the high priority threat of invasive Phragmites, a province-wide control program is needed. This Cost-Benefit Analysis conducts a preliminary analysis for such a program. 
The costs of Phragmites control in Ontario are estimated based on costs per hectare of specific control methods and on the estimated total area of Phragmites in the province. Control costs in Ontario are determined based on a survey of land managers involved in Phragmites control. The total area of Phragmites along roads and in wetlands is estimated based on the results of several studies. The estimated total cost for the first year of a province wide Phragmites control program, based on the simplifying assumption that all areas of Phragmites could be treated in the first year, is $90.0 million to $109.2 million. Control costs tend to be highest in the first year of treatment and decline to some degree in subsequent years.  
Benefits of Phragmites control accrue through the reduction in economic impacts that would occur if Phragmites were eradicated. The economic impacts of Phragmites are estimated for agriculture, tourism and recreation, property values and property taxes, wetlands, stormwater management ponds, road safety, and power outages. The values of these impacts are estimated based on results of previous related studies and on several assumptions regarding the nature of these impacts. The total estimated benefits of Phragmites control is $113.4 million annually, plus a one-time benefit of $357 million due to a reduction in impacts on waterfront property values.  
The results of this cost-benefit analysis present evidence that suggests that the benefits may outweigh the costs of a Phragmites control program in Ontario. However, it is important to note that these are preliminary estimates of the costs and benefits of Phragmites control. There are several identified gaps in information that may detract from the accuracy of these estimates and the cost-benefit analysis can be revised as more data and information become available in the future. 
Project team: 
The Invasive Species Centre engaged Dr. Richard Vyn from the University of Guelph and Colleen Cirillo (ISC contractor) on a preliminary cost-benefit analysis for treatment and control of Phragmites in Ontario, with support from land managers and organizations including the Invasive Phragmites Control Centre, Ontario Phragmites Working Group and the Ontario Invasive Plant Council who provided advice on costs and benefits as part of discussions and the survey.  
Building Capacity at the Community Level for a More Effective Phragmites Response
With support from the Ontario Ministry of Natural Resources and Forestry (MNRF), the Green Shovels Collaborative has been able to identify and support organizations across Ontario conducting priority Phragmites removal projects through the Invasive Phragmites Control Fund. 
We're pleased to once again be requesting proposals to the Invasive Phragmites Control Fund until Friday, Aug. 5, 2022, at 12 p.m. (noon).